Himachal Pradesh is the state of India in the Northern Himalayan ranges .As the name suggest Him-Anchal or "Adobe of Snow" ,the state is blessed with some of the most scenic and popular tourist destinations in the country .Deep, plunging valleys ,Pine trees and perma-snow covered mountains are simply a breathtaking sight to behold .The state do not have its own Airport nor has any major railway station (nearest railway jn is at Chandigarh which is 300km away). So it takes more than 8 hours via roadways, to reach the its popular tourist destinations from the capital of India,New Delhi .No doubt why it's often called a place , Hard to reach but harder to leave .
There is no dearth of pleasant surprises that welcome you ,when you step into Himachal Pradesh. While the twin cities of Shimla and Manali has been bookmarked as the most preferred honeymoon destinations in the country. There are few others, lesser known yet equally beautiful offbeat destinations in Himachal Pradesh ,that have recently started getting tourist's attention .
Some of these are as follows
At an average height of 9000 fts this quaint little town of Narkanda is surrounded by rich tropical forests and have some of the most magical majestic hills .Situated  just 65kms away from the buzzing city of Shimla ,this Sun kissed land provides an unhindered panoramic view of the Himalayas making it,'the' place to be.  It receives its fair share of tourists inflow during the peak season ,who find Shimla or Manali too cliche ,for much-needed solitude.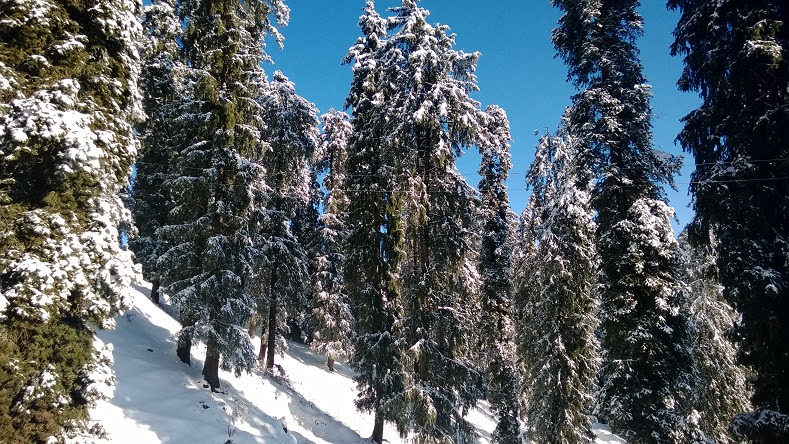 Narkanda ,is also being said as the next best skiing destination after Auli ,Uttarakhand and offers world class  infrastructures to its visiting ski enthusiastic from world over. Many might not know Narkanda is where our national skiing team practice for the world winter Olympics .There are quite a few options available for lodging and dining ,but the town is catching up fast with the rising demand and steady influx of governments development funds .
View from Tethys Ski resort
Tannu Jubbar Lake
How to Reach Narkanda from Shimla:
The Kalka station is the major railway station to reach Shimla which is around 160 km . So to reach Shimla  you need to book a cab . Time it takes to reach Shimla is 4-5 hours. From Shimla its another 65kms or an hour of journey to reach Narkanda.
Distance map Narkanda from Shimla : 61 Kms
How to Reach Narkanda from Chandigarh:
Chandigarh has the best road and air connectivity so as to reach Narkanda. Its hardly a distance of 190 kms .Cabs on hire are available in plenty .And it takes not more than Rs 4000 to book a 4*4 vehicle till Narkanda.
Distance map Narkanda from Chandigarh
Best time to Visit Narkanda:
Narkanda can be visited any month of the year except the rainy season .
Where to stay in Narkanda :
Some of the most popular hotel to stay is the Tethys Ski resort and V Resorts .
Some of the top places to visit near Narkanda are : 
-Atal Bihari Bajpayee ski training center
Situated at an average  height of 7,000 ft ,amidst the scenic apple orchards is the small little town of Thanedhar .Famed as the fruit bowl of Himachal Pradesh ,it is around 80kms from Shimla .
Pic courtesy: bnomadic.com
It is here at Thanedhar,that a social worker named Samuel Stokes (later known as Satyanand Stokes), with his method and patience, turned Himachal Pradesh into India's 'Apple State' . The 'Starking Delicious' apple orchard in where he first started planting Apple seedlings and so does the legacy of Apples in India, grew. The Apples business in Thanedhar is now a 3000 Cr rupees business and whole of the state now depends on the rich earning it commands in foreign export markets. The Apples are also used to prepare the most smacking wines and delicious jam and pickles.One has to be at Thandedhar to taste the local fruit wine .
Snow Covered Mountain ranges
The hill station's natural beauty  is dotted with beautiful rhododendron trees ,walnut and the omnipresent pine trees which bewilders everyone. Lodging options are less but are impressive .There are some impressive traditional pahari style rest house built on the land overlooking the Satlej Valley. In any season, a weekend sojourn to Thanedhar would only whet your appetite to be here, to be in the hills and to tread them with slowness and longing.
How to Reach Thanedar from Narkanda :
Thanedar is 10 km from the picturesque town of Narkanda.
Distance map Thanedhar from Narkanda
How to Reach Thanadar from Shimla:
The distance is  mere 80 kms from Shimla .
Distance map Thanadhar from Shimla : 73 Kms
Best time to Visit Thanadhar:
You can visit Thanedhar any month of the year .The average temperature remain around 23 C round the year except the Winters.
Where to stay in Thanadhar:
Some of the most popular hotel in the area to stay are Banjara Orchard Retreat  and The Wilderness Resort
Places to visit near Thanadhar
-Stokes Apple orchard
-Mahamaya Palace
-Tannu Jubber
Perched at an altitude of over 1600 meters,located in the Kullu district of Himachal Pradesh, Tirthan Valley is Himachal's best kept secret .This riverside retreat is an adventure-centric getaway ,blessed with troves of nature's treasure. Tirthan Valley derived it name after the pristine river Tirthan river, which originates from the icy cold glacial springs of Hanskund and winds its way through the valley. The Tirthan River runs parallel to the National Highway 21,traversing some of the finest forests of Western Himalayas before it's confluence with the Beas River at Larji village .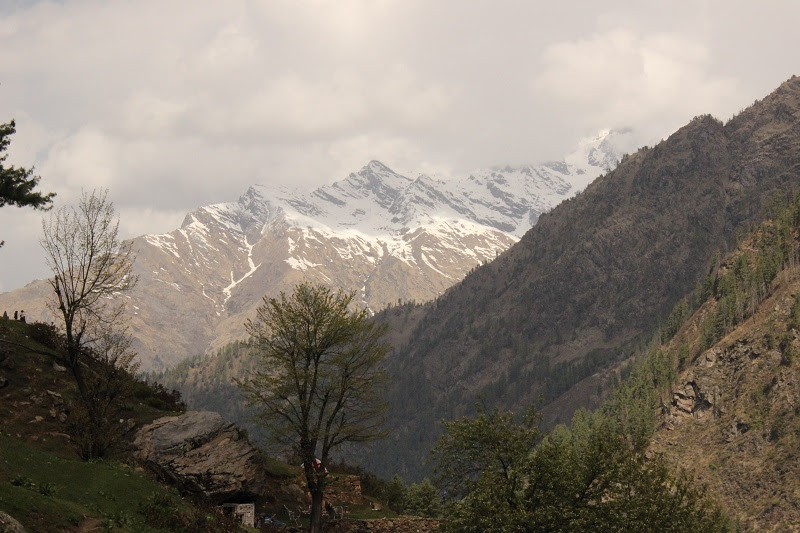 Tirthan valley
The idyllic backdrop of Tirthan valley is dominated by cloud-kissed mountains, dense pine tree forests and sprawling green alpine meadows. The Valley is scenic, full of secluded hamlets, waterfalls, cedars and pine forests.Besides offering breathtaking vistas,the lush green valley and the scenic landscapes will help you unwind and offer you the ultimate chance to breathe in the fresh mountain air. The valley is near to Great Himalayan National Park which is also a great trekking destination .Along with the Great Himalayan National Park,Tirthan valley is home to 250+ species of birds including the rare Tragopan, Cheer Pheasant and Kaleej that makes it an one stop destination for all bird watcher. Off late, Tirthan valley is also getting popular as angling destination . The Himalayan trouts are the most prized angling fish that can be found here.
Whether you like to take long nature walks or to wander off in the woods that lies by the river, there are innumerable way you can get spellbinded by Tirthan Valley.
How to Reach Tirthan from Manali :
Tirthan is 110 km from the picturesque town of Manali and it takes not more than 3 hours to reach ,The Tirthan Valley .
Distance map Tirthan Valley from Manali
Best time to Visit Tirthan Valley:
Ideally the months from March to June and the months of October till late November are said to be the best months to visit Tirthan Valley. However you can also visit during the winters when you can savor the beauty of snowfilled mountain valleys in the area.
Where to Stay in Tirthan Valley:
The villages of Gushaini and Nagini being the most preferred stay options for the tourists and trekkers alike .There are several other quaint little villages which dot the picturesque banks of the river and makes them an ideal homestay location . Few luxury BnB hotels are also available like Himalayan Trout House on Sharchi road to Tirthan valley .
Places to visit near Tirthan Valley